Two summers ago, we hosted a garden wedding and reception for our daughter and son-in-law. We were thrilled with their engagement but had trouble securing a venue that allowed the decorating our daughter wanted. She knew the colors and look she desired, but we found nothing available that suited her needs. So, by limiting the number of guests to around 100, we suddenly had a venue which we could use and decorate on our terms: our lawn and gardens.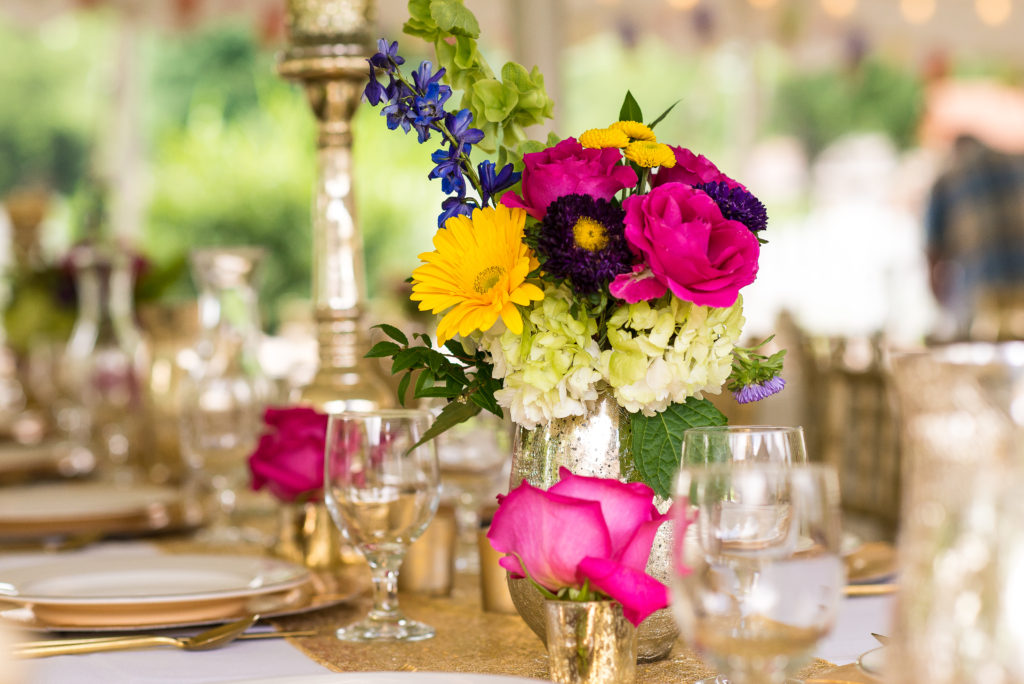 A note on home weddings and receptions: they are a lot of work. If friends and family offer to help, let them! You will need the extra hands the week before, but on the day of the event, you will absolutely need to take advantage of any offers of assistance. Be organized and able to be specific in ways your loved ones can help.
Our backyard is surrounded by a picket fence which provided a beautiful backdrop to the plantings and lovely gold and floral decorations. (The flowers were arranged by my friend Krista and fellow designer Jenn. What they created was stunning.)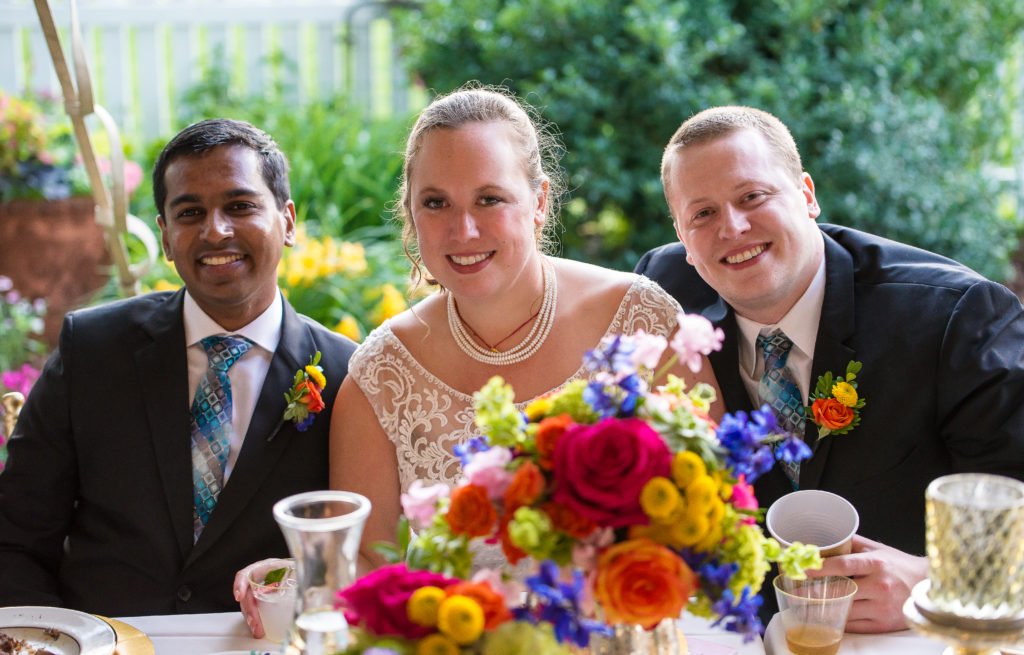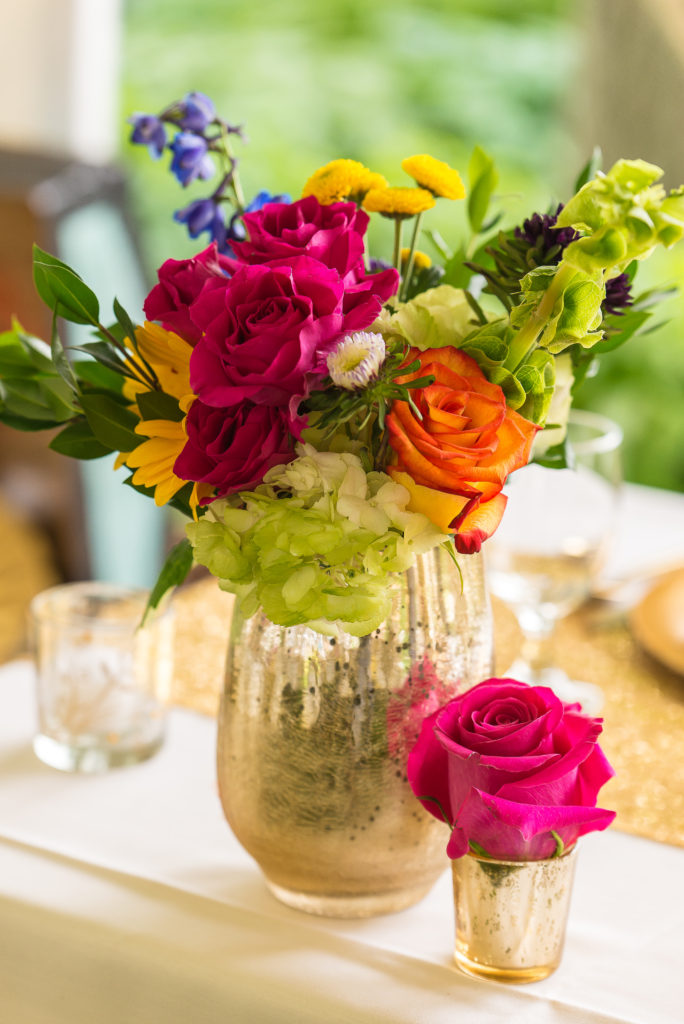 The strong colors of the flowers are enhanced by the gold mercury glass and sequin table runners. Krista and I collected the mercury glass from online sources and the local TJMaxx throughout the previous year. It was affordable AND it has been shared and used for her family and friends' weddings. This makes us both happy.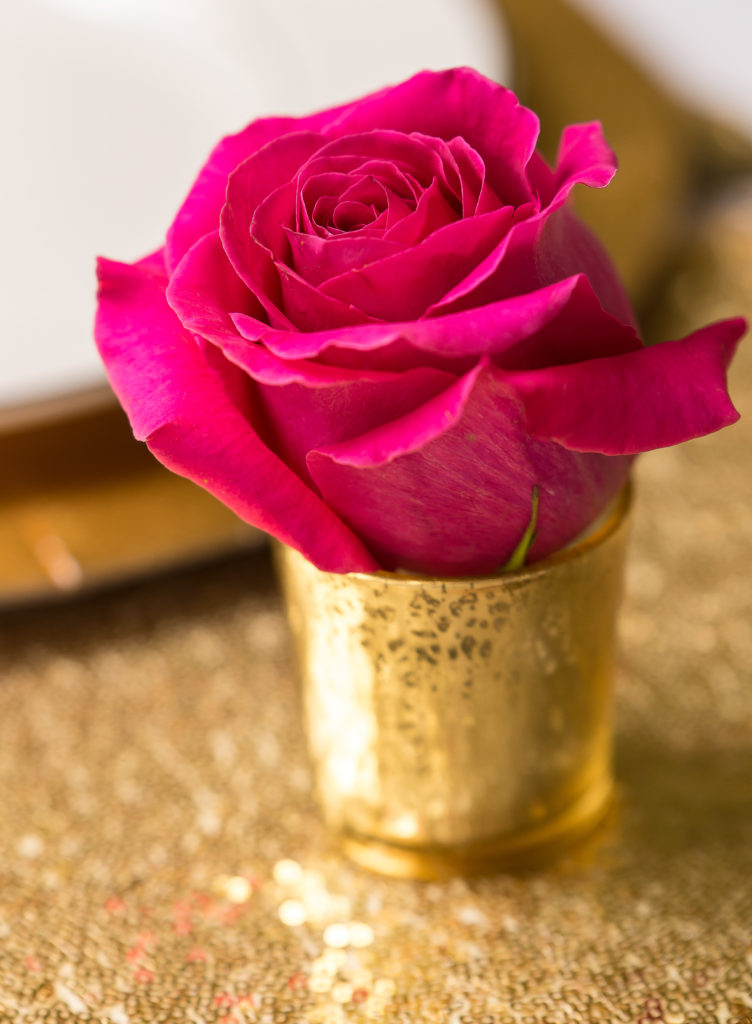 Krista and Jenn used some of the mercury glass votive holders to hold one beautiful rose. It added depth and an additional levels to the table. This was quick, added more color, and was affordable.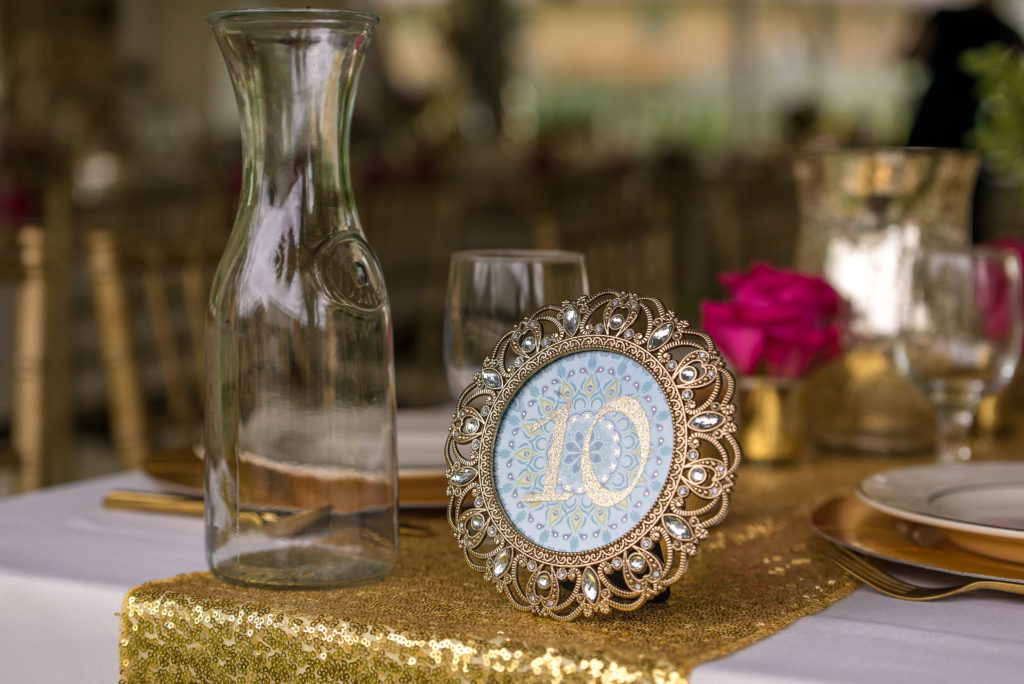 How to Recreate the Look:
 Please note: as an Amazon Associate, I earn from qualifying purchases.
Rent through a Reputable Company
We have used the same local company for nearly twenty years. Look at reviews and ask around before you commit. Besides the tent, tables, chairs, and tablecloths, We rented the glassware, water carafes, gold-rimmed dinner plates, and gold flatware. Be sure to secure these things well in advance of your celebration: even a year in advance, the supply of the gold chairs was running out. While there are other chairs, the gold-backed chairs added some elegance.
Purchasing Decorative Items
The most affordable source for the picture frames is TJMaxx. I started stopping in weekly and between Krista's supply and my shopping, we had enough for 12 guest tables. I have not found an affordable online source. We found scrapbook paper to use for inside the frames, and used a Cricket to make the sequinned numbers.
I ordered the sequined table runners on Amazon. I was satisfied with the price and quality. (This company has good reviews.)
The gold paper chargers added additional richness to the table-scape. (This company also has good reviews.)
Gold Mercury glass is getting harder to find in stores. Again, we found many of ours at TJMax, especially around Christmas, but there are many online sources if you have trouble locating it. Here are some sources with good reviews.
It's a Fine Life