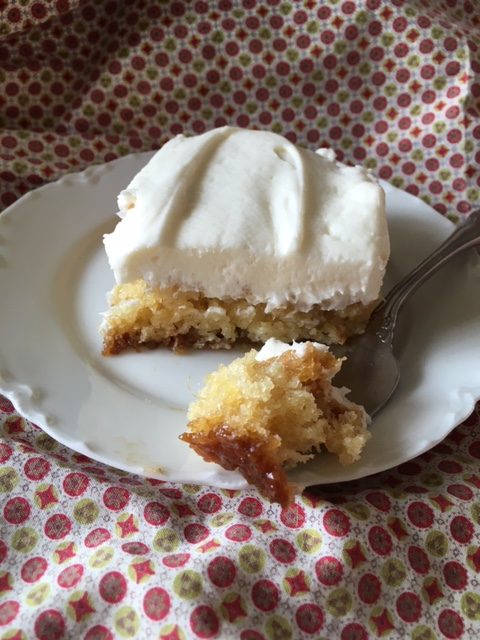 So this cake isn't going to win any awards from professional judges. They would say things like "it didn't get a good rise" or "it's a bit doughy in the middle, isn't it." And I would have to nod and annoyingly say, "Yes, but that's how my family likes it."
This is the hands down, most requested dessert at family gatherings. It was my dad's favorite dessert, so on Easter I remembered his sweet face as I frosted the cake. My niece even requested it for her wedding dessert table.
It is super easy: no special ingredients; you don't even need to use a mixer. And chances are, you might have everything you need right now in your refrigerator and pantry.
Preheat oven to 350
spray a 9×13 pan
In a large mixing bowl combine
2 Cups flour
2 Cups sugar
2 t baking soda
Add
2 eggs
One 20oz can of crushed pineapple (undrained)
Mix well and pour into pan. Bake for 30 minutes (until set)
For frosting:
1/2 Cup butter (softened)
8 oz Cream Cheese (room temperature)
Blend together well, then add 3 Cups powdered sugar
Frost while warm.
It isn't the prettiest, but it is delicious.
It's a Fine Life.