The meal exchange idea emerged nearly twenty years ago when my friend Paula and I began sharing desserts—and who wouldn't love that! We live across from each other on a quiet neighborhood street, we each are married with three children, and we each have family members who consist of "easy eaters." (There isn't ONE picky eater in the bunch, which I'm sure makes this idea easier AND more sustainable.) When Paula made a blueberry crisp, for example, she would make two and bring one across the street for our family to enjoy (often with some vanilla ice cream, that's what a great neighbor and friend she is!) Then the next week, when perhaps I made a chocolate cake, I would make one (or half) for her–usually in the same pan–and return the dish to her. It was wonderful, it was uplifting, and it became something our whole family looked forward to. Don't you find there is something so amazing about sharing food with people we love?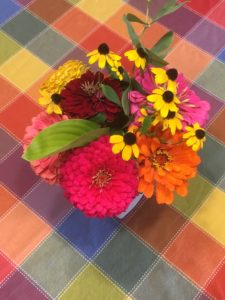 After several months of weekly dessert exchange, we broached the idea of each of us sharing a complete meal with the other family once a week.  (At this time Paula and I were both working part-time, which of course makes this easier, but I think with planning on the weekend, this could work for full-time folks.)
Here's how we launched and the basic guidelines we followed:
On Sunday, each of us shared our idea for the meal we were planning. (We usually looked at the Sunday sale flyer for our local grocery store and had an idea of what we wanted to buy and fix.)
We tried to provide variety with the dishes, so, for example, one of us would fix chicken and the other might fix pork or beef.
We discussed what dishes or pans would be needed. (For the most part, we each have two of just about everything, so we simply needed to label with the family name.)
We agreed upon the day and approximate time of meal delivery.
We informed each other whether the meal would come pre-cooked and ready-to-eat, or whether the dish would need to be cooked.
We provided a complete meal, including a vegetable, fruit, main dish, and a dessert. (Often we included a special bread and sometimes even a bottle of wine. Pretty awesome, right?)
We gave weekly feedback to each other: How did our families like the meal? What would we change? Were the amounts okay? And so on.
And so we began, and it was wonderful. Here's why: we found that we only cooked once during the week! Yes, we cooked twice the amount, but it was once a week. (I liked making an event of the cooking, buying a new votive scent to burn while I cooked, listening to music, sipping a glass of wine…you get the idea!) We found that with two full meals, we had leftovers for two additional nights. Because our families usually ordered pizza on Friday Night, that meant ONE MEAL prepared during the week!
If our budget was tight (mine ALWAYS was), I could buy foods on sale. I know I saved money by buying sale items AND by planning. Additionally, I knew my family was eating nutritious, home-cooked meals, and these meals became a shared, anticipated experience.
The meal exchange era lasted approximately two years. We did eventually add a third family, also family friends, and Susan contributed immensely to the quality of foods our families enjoyed. (With three families, we found there were enough leftovers for the whole week, including weekends.)
As the children grew older and entered middle school, our schedules changed, and, sadly, with the addition of athletics and other extra activities, the meal exchange gradually faded away. My children (now all grown-up and launched) remember these meals with great fondness. "Remember that casserole Paula used to make?" or "Mom, that was so great when Susan joined the meals and used to bring the fancy pasta with the white sauce."  Yes, Susan added a gourmet element: delicious sauces, unique seasonings, amazing homemade breads. She's a FABULOUS cook, and it would have been useless to try to compete—I just appreciated and enjoyed.
Dennis and I now find the tempo of our family life has slowed to a reasonable pace. We share simple meals at home (heavier now in fruits and vegetables), and we relish the treat of a weekly meal out. And Paula and I are once again sharing desserts…