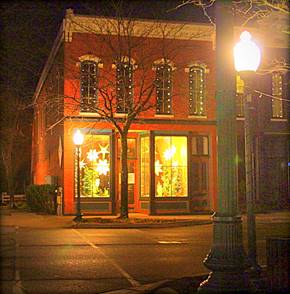 Each morning I pass this storefront on my way to work.
The streets of the village are nearly empty. It's 6:30 A.M. and my thoughts are filled with lists and tasks waiting for me in the day ahead. I am already feeling pressured and pre-occupied instead of simply appreciating these quiet moments.
Then here it is, this lovely gift, radiating a beautiful, warming comfort.
I am thankful for this snippet of joy during this season of darkness. A reminder.
Vaccines are coming. Peace and calm will eventually return.
And our little hometown remains.
My heart is full.